"We have a choice tonight. A piece of candy or a dinosaur."
That was my response to the small costumed crowd chanting "Trick or Treat" on our front porch.
"I love dinosaurs" was often the response and the clear winner tonight among the small "trick or treaters" dressed up as and pretending to be their favorite character for this year.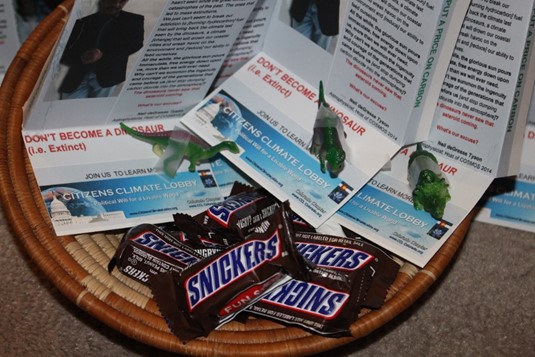 Who would have thought?    I was going to skip Halloween this year, until my partner, Gail, suggested handing out dinosaurs in lieu of candy.
The tiny toy dinos were left over from a tabling event we participated in earlier this year for one of the grass roots organizations we support, Citizens Climate Lobby.   
I decided to do both.
What is there about dinosaurs and young people? I wondered if I would have chosen a plastic toy over a Snickers® bar when I was their age?
Every child that appeared at our door last evening was precious. Several were so young they had to be prompted by a parent, "Say Happy Halloween" or "Say Trick or Treat."
But there are two stories I must tell.
Story #1.

Although there is generally only a 2 hour window of visitors, each year you find that the very young show up first and the older children are the last to give up the annual hunting and gathering event. So nearing the end of this time interval, the doorbell rings and I open the front door with my basket of treats hoping to ward off the tricksters.  This time I find two young girls cleverly outfitted in costumes I couldn't recognize but much taller than their previous peers.  I'd guess the two were in the 7th grade – 12-13 ish.  Again, I presented our small basket of goodies filled with tiny dinosaurs and mini candy bars. [Incidentally the basket was handcrafted in Namibia by women employed by Elephant Energy – a small company that sells the African villagers solar powered lights].
The extraverted one of this pair, we call her Miss E., leaned in over the basket and announced, "I'd like a dinosaur." Her silent companion reached for a dino as well.
I heard her Miss E. say to her friend, "This is the coolest house." As she turned to go, she glanced down at the card the little dinosaur was taped onto.
"Ooooh my gosh! I was just watching him – for an hour on Youtube – just the other night. This climate thing is really scary."
This is what she was reading on the card that her dinosaur was attached to.
I had to respond.
"It is scary, but we can do something about it. Did you notice the solar panels on our roof?"
It was pitch dark by this time, so as soon as the words came out of my mouth I realized this was not my brightest moment.
"Yah, but they are really expensive."
"Yes, they seem expensive, but they last for 20 years. Actually, they pay for themselves after about 10 years. So we generate all our own electricity these days. We don't ask Xcel Energy to burn any coal and dump CO2 into the air for us."
"How cool – you must have a really small footprint."
I thought, wow! A 13 year old who knows about carbon footprints – she is amazing! So I continued.
"And we have an electric car that uses the electrical power we harvest from the Sun."
"That is really cool," Miss E. exclaims.
I continue, "We are just trying to save some of this fossil energy for you and your generation and not contribute to more climate change."
They just stood there – for what was becoming an awkward moment.
So I felt compelled to jump in and say something, "Well, you two have a good Halloween evening."
As I watched them walk off toward the next door neighbors and closed our front door, I couldn't believe what had just happened.
After 2 hours of responding to the doorbell, I turned off the front porch light and decided to call it a successful Halloween. I was still thinking about the many creative costumed children that had ventured out this evening with their parents hidden in the dark at a safe distance. And to be honest, I was a bit surprised by how these children voted. I wouldn't have predicted so many would choose a tiny dinosaur over sugar and chocolate. Was this an illustration of the power of a curious mind over matter (i.e. over the addictive power of sugar)?
After watching the 10:00 news, I returned to my laptop to shut it down for the night and found several new email messages waiting. One waiting message stood out.   It was from a neighbor I have talked to several times, but not for past 6 months or so. Here's what I found.
Story #2

My reply was simple.

Dinosaurs 20  Snickers 8